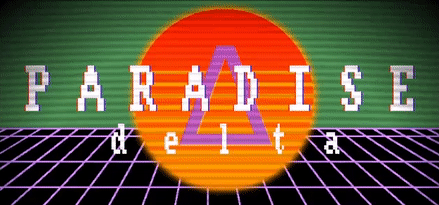 Paradise Delta
Demo Update v1.4 is now available.

-Multiple new locations to explore to unlock additional story

-New longer ending with additional scenes

-Added additional hints and expanded quest descriptions for commonly stuck areas
-Players can now rent robots to run shops in the Mall until they recruit the proper NPC to run them
-New shops added to the Mall (Some shops are not yet functional. Non-implemented shops are indicated by a cone in front of their door)

-Players can now retry battles they died in for ten Delta
-Adjusted Applebaum Hotel cost to ten Delta
-All equipment except weapons now have durability. Broken equipment is no longer lost but becomes unequippable until repaired.

-Several new crafting recipes added
-Brand new type of non-combat monster type introduced

-Expanded narrative
-Added fancy lighting features
-Added flashy visual battle effects and custom battle transition

-Sexy new title screen!

(Old saves will not cross over. Message me if you want to transfer an old save)